WILDLIFE – in Dumfries and Galloway
What can you expect to see around and about? – around Knowehead you will see red squirrels scurrying around the woodland garden, and overhead you can watch the soaring red kites and buzzards… but there is so much more!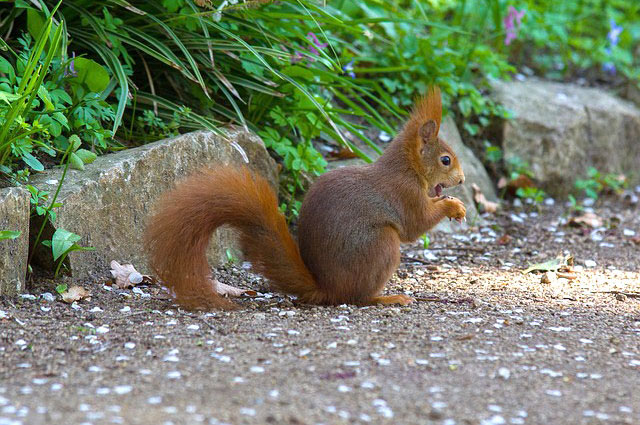 WILDLIFE
The iconic red squirrels are regular visitors to Knowehead, but Dumfries & Galloway, as a region, is a nature lovers haven!
Species you can expect to see throughout the year include:
Birds: Barnacle Geese, Barn Owl, Black Guillemot, Black Grouse, Gannet, Crossbill, Golden Eagle, Goosander, Kingfisher, Kittiwake, Nightjar, Osprey, Peregrine Falcon, Pink-footed Goose, Razorbill, Red Grouse, Red Kite, Spoonbill, Teal, Oystercatcher, Whooper Swan
Mammals: Badger, Otter, Common Porpoise & Common Dolphin, Fallow Deer, Red Squirrel, Red Deer, Roe Deer, Grey Seals
Reptiles & Amphibians: Adder, Common Lizard, Natterjack Toad, 
USEFUL LINKS
Red Kite Trail
Galloway Red Deer Range
WWT Caerlaverock Wetland Centre
Mull of Galloway
CONTACT US
KNOWEHEAD
St John's Town Dalry
Castle Douglas
Dumfries and Galloway
DG7 3TD